The Mausoleum of Pieter Reinier van Motman
Third Landlord, 1838-1911
ON MISSION
The morning dawn of June 2011, we travel across part of the former country land that owned by van Motman family in Tjikoleang, Roempin, Tjampea, Sadeng, Dramaga, and Djamboe. We also have the plan to explore the nearly forgotten historical site of Gerrit Willem Casimir's family graveyard in Sibanteng, Afdeling Djamboe about 30 kilometers from Buitenzorg. He was the landlord and the man behind the Daendels' Grootepostweg–roads and postal services in Java–across the Preanger uplands in 1808-1810.
On this graveyard, there were 40 persons have been buried in 39 burial spots–pillar tombstones and mausoleum. However, since the van Motman family left Indonesia in 1958, this family graveyard is neglected: marble plaques were plundered and corpses in mausoleum were disappeared!
MAP OF DJAMBOE-LEUWISADENG
The red point shows the location of the family grave
"Toeristenkaart van West-Java"
Batavia, Officieele vereeniging voor toeristenverkeer, 1932.
Source: Koninklijk Instituut voor de Tropen, Amsterdam.
The red point shows the location of the family grave
"Leuwiliang"
Herzien door den Topografische dienst in 1920-1923
Blad 36/XXXVIIIA
West-Java 1940
Source: Koninklijk Instituut voor de Tropen, Amsterdam.
THE VAN MOTMAN'S LAND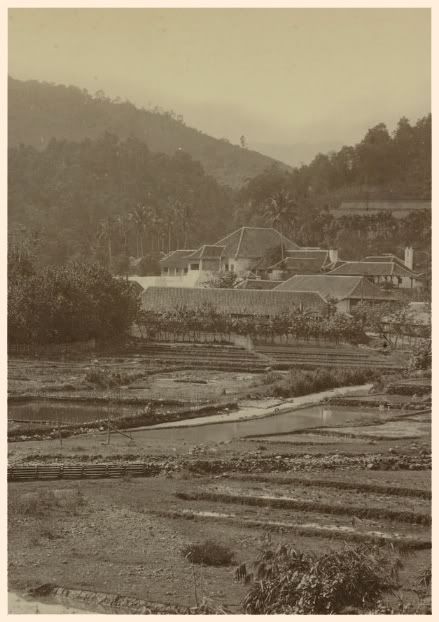 About 12.596 hectares in Nanggoeng in 1880
Land owned by van Motman family near Buitenzorg.
Photograph by Isidore van Kinsbergen
Source: Geheugen van Nederland
Total lands owned by van Motman family in
Buitenzorg and its surroundings were 117.099 hectares!
There were...
Semplak, Kedong Badak, Roempin, Tjikoleang, Trogong, Dramaga, Tjampea, Settlement Djamboe, Nangoeng, Bolang, Djasinga, Pondok Gedeh, Pasar Langkap and Rosa in the Gunung Preanger, also Tjikandi Ilir and Tjikandi Oedik in Bantam.
Those lands were cultivated as plantation:coffee, tea, kina, rubber, sugar cane, and rice
___________________________________________
PAST AND PRESENT
The van Motman's Family Grave in 1920's
Source: Tropenmuseum
The van Motman's Family Grave in 2011
___________________________________________
THE CUSTODIAN
Ucup Sumarna
The fifty-nine years old custodian of van Motman family grave.
He is officially appointed by Heritage Preservation Board since 2011.
Born in Jakarta, but his ancestors are from Leuwisadeng, Djamboe.
THE MANDOR (CUSTODIANS):
ELLIAS
He was a well-known fighter with magical powers.
Appointed by Gerrit Willem van Motman.
JIPRO
Ellias has no son, so the next custodian held by his brother, Jipro.
MUSTAFA
He was Jipro's son-in-law.
HAJI MUGENI BIN MUSTAFA
He was son of Mustafa. Haji Mugeni was Ucup's grand grand father.
HAJI SUMATRA
He was Ucup's father. He serviced to the family graveyard 1952-1973.
Haji Sumatra received a salary from Mrs. Pauline Elise Laurince Marie, the Motman offspring who living at Landhuis Dramaga.
Nobody to take care of this family graveyard since she left Indonesia in 1958.
Later, many marbles, tombstones, gate, even the corpses inside the mausoleum were plundered.
Since Haji Sumatra was died, more than 30 years this family graveyard are neglected and plundered.
___________________________________
THE ANCESTOR:
GERRIT WILLEM CASIMIR VAN MOTMAN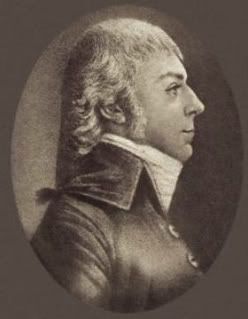 Born at Gennep, 11 January 1773
Died at Dramaga, 25 May 1821
Source: Stichting Van Motman FamilieArchief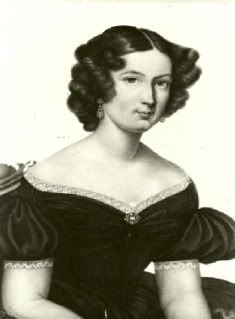 Jacoba Reiniera Bangeman
(Gerrit W. Casimir's Wife)
Born at Batavia, 6 November 1778
Died at Dramaga, 9 Februay 1860
Source: Stichting Van Motman FamilieArchief
SHORT BIOGRAPHY
GERRIT WILLEM CASIMIR VAN MOTMAN
1791:
Temporary administrator in Grain Warehouse of VOC
(East Warehouse)
1793:
Married Anna Apollonia Jens. The marriage was not successful.
Five years later they separated.
1794:
Member of the Masonic Lodge "La Vertueuse" in Batavia.
1795:
Ensign and adjutant of the administrative officers corps of the VOC)
1797:
Temporary administrator in the iron store in Batavia
Administrator of the Coffee Depot at Buitenzorg
1798:
Underliutenant of VOC
1800:
Administrator of the Iron Warehouse in Batavia
Appointed as leutenant and then captain.
1801:
Administrator of Provision Warehouse
1805:
Merchant in VOC
1806:
Major in VOC
1808:
Chief merchant in VOC
1808:
Provisional committed on the business of the native
1808:
With his wife, accompany Herman Willem Daendels to Semarang.
Appointed as Senior Merchant.
The Jacatrasche Preanger and uplands and Commissioner of Roads and Postal Services in Java.
Accompanied Daendels in his crackdown against the Sultan of Bantam.
1809:
First committed to the sugar industry
1809:
Married Jacoba Reiniera Bangeman. However, Casimir and Reiniera had twelve years and wait for official permission for the dissolution of their first marriages. They married in 1809 but lived together for many years before.
That marriage took place at Buitenkerk and the mansion of Petrus Wilhelmus Helvetius van Riemsdijk on Molenvliet, Batavia.
1810:
Second external examiner on the rice culture.
1816:
Resident of the Preanger regencies
1820:
Board member orphan estate in Batavia.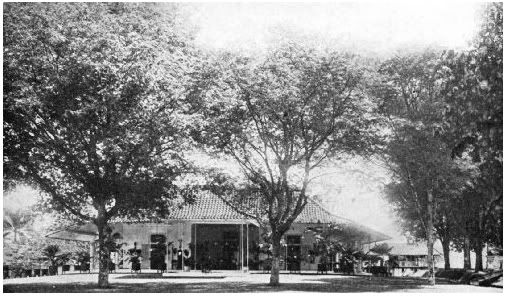 Landhuis Dramaga, consisting of 20 extra bedrooms.
Gerrit Willem Casimir bought Dramaga around 1813.
Dramaga was well known for its `Liberia-coffee plantations
that belonged a long time to the most beautiful and most fruit-bearing of Java.
Now this mansion is owned by Bogor Agricultural University (IPB)
"The house on Dramaga is splendid, blank marble and white walls all over the place; in the front veranda one has a splendid view on the Salak and everything looks very cheerful.
There is a large swimming pool where the water flows in with an enormous jet and it is drained away through an opening on the other side."
Cateau Kerkhoven in 1867
___________________________________
THE MAUSOLEUM
PIETER REINIER VAN MOTMAN
Pieter Reinier was born at Dramaga 23 November 1850 and died at Davos 25 April 1911, third landlord of Dramaga. The mausoleum adopted the Neo-Classical architecture, built in early 20th century.
The gate at the time was an iron door.
Inside the mausoleum, both the left and right wall are two tomb doors fitted and 12 iron rings.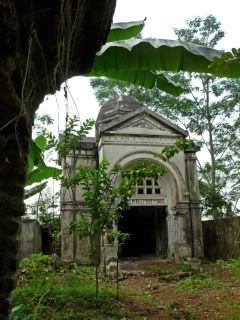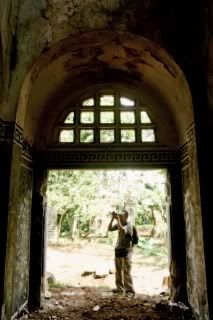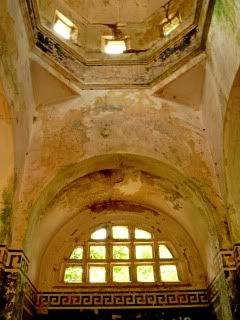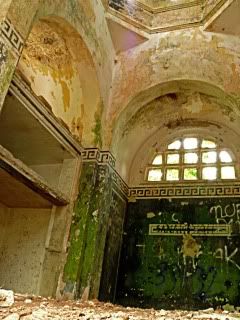 THE FAMILY GRAVE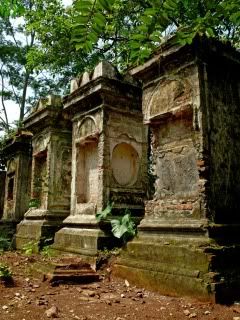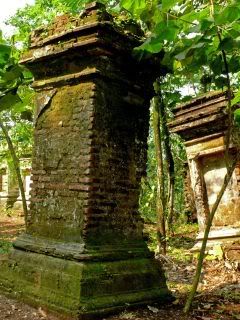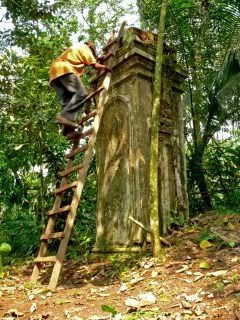 Searching the Landlords
________________________________________
THE VAN MOTMAN FAMILY WHO WAS BURIED IN DJAMBOE
Based on "Genealogische en heraldische gedenkwaardigheden betreffende Europeanen op Java"
by P.C. Bloys van Treslong Prins that published in 1934,
there are 40 persons who burried in 39 sites.
1. DAUGHTER: Sophia Wilhelmina, *Semarang 21-04-1808, † 21-03-1812
2. SON: Gerrit Willem Casimir Jr, * Batavia 24-04-1810, † 18-11-1812
3. SON: Theodorus Petrus, *Batavia 21-05-1811, † 21-03-1812
4. DAUGHTER: Nonnetje, *Sadeng Jamboe 21-05-1811, † 22-05-1814
5. DAUGHTER: Sophia Cornelia, *Sadeng Jamboe 26-06-1813, † 28-10-1814
6. SON: Theodorus Frederik, *Sadeng Jamboe 10-06-1814, † 30-08-1815
7. Gerrit Willem Casimir Sr, *Gennep 11-01-1773, † Dramaga 25-05-1821
8. Gerrit Willem Casimir, *Nanggoeng 02-07-1826, † 02-09-1831
9. Wilhelmina, *Nanggoeng 14-10-1842, † 20-03-1844
10. Pieter Holle, *Oostcapelle 1814, † Bolang 1845
11. SON (BRANCH A): Willem Reinier, *Batavia 04-09-1802, † Batavia 23-12-1848
12. Frederik Hendrik Constant van Slooten, *Batavia 29-10-1848, † Buitenzorg 07-04-1849
13. Anna Louise Quentin, *Toeban 23-09-1828, † Buitenzorg 13-09-1855
14. Maria Jacoba Reiniera, *Djamboe 14-01-1855, † 23-04-1858
15. August Frederik Hendrik, *Dramaga 27-08-1857, † 06-05-1858
16. Jacoba Reiniera Bangeman, *Batavia 06-11-1778, † Dramaga 09-02-1860
17. Paulina Wilhelmina Augusta Wolterbeek, *15-12-1860, † 12-04-1862
18. SON (BRANCH D): Jan Casimir Theodorus, *Tjiandjoer 02-04-1819, † Tjikoleang 04-12-1865
19. Pieter Johannes Folkert ten Cate, *Batavia 21-08-1830, † Tjampea 01-05-1872
20. Cornelie Charlotte, *Nanggoeng 14-03-1845, † Semplak 07-01-1875
21. Frederik Hendrik Constant, *Batavia 03-04-1853, † Djamboe 15-07-1875
22. Johanna Adeline, *Leuwiliang 26-07-1874, † Buitenzorg 14-10-1875
23. Jacoba Djiëm, *Tangerang 16-07-1826, † Djamboe 14-08-1877
24. Amalia Alphonsine, *Leuwiliang 22-04-1878, † Leuwiliang 23-06-1878
25. Louis Constant, *Djasinga 30-10-1879, † Djasinga 18-10-1883
26. Petronella Rosalia Aldonse van Swieten, *Amsterdam 20-11-1815, † Dramaga 03-07-1888
27. Catherina Johanna Frederika ten Cate, *Batavia 07-10-1855, † Buitenzorg 22-10-1888
28. R.H.L.A. van Oosterhoudt-Schönermarck, *Malakka 18-11-1823, † Dramaga 10-10-1888
29. SON (BRANCH B): Frederik Hendrik Constant, *Pondok Gedeh 21-07-1809, † Tadjoer 19-09-1889
30. Rudolf Jacob Johan, *Batavia 23-01-1880, † Dramaga 18-09-1899
31. SON (BRANCH C): Jacob GerritTheodoor, *Wanajassa 19-11-1816, † Dramaga 20-09-1890
32. Willem Reinier, *Djamboe 19-02-1833, † Tjampea 30-12-1890
33. Wilhelmina (Tan Nieo), *1804, † Buitenzorg 05-03-1900
34. Frederika Constantina, *Djamboe 29-01-1831, † Buitenzorg 19-11-1905
35. SON (BRANCH E): Pieter Cornelis, *Batavia 10-09-1820, † Sadeng Jamboe 26-03-1902
36. Reinier Jacob, *Dramaga 29-03-1846, † Leuwiliang 12-08-1904
37. Daughter of Frederik Reinier en Sophia Cornelia, † Tjampea 30-11-1906
38. Pieter Reinier, *Dramaga 23-11-1850, † Davos (Switzerland) 25-04-1911
39. Pauline Elise Laurence Kleyn, *Batavia 19-11-1855, † Batavia 29-06-1915
40. Paul Carolus Piet, *Dramaga 27-07-1892, † Den Haag 01-10-1919
Gerrit Willem Casimir and Reiniera Jacoba Bangeman probably had 13 children,
the first three were born before the marriage.
Eight children died at a young age.
Children were Buried in Djamboe:
Sophia Wilhelmina (3 years, 11 months); Gerrit Willem Casimir Jr (2 years, 7 months); Theodorus Petrus (10 months); Nonnetje (3 years); Sophia Cornelia (1 year, 4 months); Theodorus Frederik (1 year, 2 months).
Thus, Gerrit Willem Casimir was the first adult who was buried in Djamboe.
Children were buried at Kerkhof Tanah Abang:
Maria Henrieta, *Batavia 22 July 1806, † Batavia 5 December 1811
Petrus Wilhelmus, *Djamboe 10 June 1814, † Paalmerah 18 October 1815.
The remaining their five sons who had the destiny as the ancestors of van Motman branches:
Willem Reinier (1802-1848), Frederick Henry Constant (1809-1889), Gerrit Jacob Theodoor (1816-1890), Jan Theodore Casimir (1819-1865), and Pieter Cornelis (1820-1902).
________________________________________
WHO ARE THE TWO PERSONS INSIDE THE MAUSOLEUM?
We don't know about two person who preserved inside the mausoleum.
They are disappeared, may be plundered.
But, I think they are Pieter Reinier and Paul Carolus Piet
because these persons died outside the Netherlands Indies (Davos and Den Haag).
If the information from P.C. Bloys van Treslong Prins was right,
their corpses must be preserved in order to buried in to this family graveyard.
What about your opinion?
_______________________________________
REFERENCE
"Kampus IPB Darmaga, Suatu Warisan" -KOMPAS 27 Juni 1991
Stichting Van Motman Familie Archief
http://www.familievanmotman.nl/index.html
"Kehidupan Sosial di Batavia"
by Jean Gelman taylor.
Published by Masup Jakarta, 2009
"Historical Sites of Jakarta"
by Adolf Heuken, SJ
Published by Cipta Loka Caraka, 2000.
"Gerrit Willem Casimir van Motman"
http://www.genealogieonline.nl/stamboom-hoffman-ondaatje/I5985.php